Are my macros way off?!
Commented on March 31, 2014
Created March 30, 2014 at 12:52 PM
Hello!
I'm a 25 year old female with 30-40 pounds to lose. I have lost almost 100 lbs, but this last 30-40 has been difficult. I currently weight 175lb and I am about 5ft. I would love some help tweaking my nutrition to get this fat off my body faster! Here's what a typical day looks like: 5AM: Black coffee Weightlifting with BCAAs Whey protein (110 cal., 1g fat, 3g carb, 23g protein, 1g sugar) 7:30AM: Plain Fat free Greek yogurt with some frozen blueberries 10:15AM: 2 mini egg frittatas (2 eggs, spinach, kale, feta) 11ish: chicken breast and frozen veggies (edamame, broccoli, cauliflower, carrots) 1:30: orange 3:00 PM: whey protein 5:30-6PM: kale and spinach salad with goat cheese, bell peppers, and a 1/2 avocado 6:30PM: usually rock climbing and/or yoga Occasionally I have some 88% dark chocolate and almond butter for dessert, but I keep the portion size tiny. I also drink plenty of water all day. My rationale for this current diet was that it is high in protein and veggies and low in grains. But when I typed it into myfitnesspal, my macros didn't look too healthy: Carbs: 89g (26%) Fat: 44g (29%) Protein: 157g (45%) I just want a strict structured daily routine that I can repeat everyday. I like to prep all my food for the week on Sundays and then eat the same thing every day. Any advice? Thank you!!!
Views




2.4K

Last Activity




2055D AGO
Get FREE instant access to our Paleo For Beginners Guide & 15 FREE Recipes!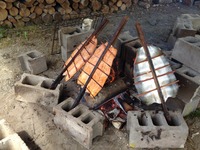 on March 30, 2014
at 05:52 PM
Your calorie total and macros look ok. I would swap fish for the whey protein - for simplicity a can of tuna, sardines or shrimp for each whey ration. Also start walking 1-2 hours a day. That should cut into the remaining weight better than lifting.
on March 30, 2014
at 03:02 PM
It's 95% calories, 5% macros. Willing to bet you're underestimating how much you are actually eating. Ditch the whey protein.
on March 30, 2014
at 02:55 PM
Seems like protien may be a bit high in relation to your other nutrients. (possibly not g/lb wise)
You also may be underconsuming calories, as your other numbers look low - to me - but maybe that's what your going for. But if you're messing with your diet to lose weight ofcourse your numbers are going to look funky.
Sign in to Your PaleoHacks Account