Maca Powder...why am I only just hearing about this now?
Asked on October 08, 2014
Created October 01, 2014 at 9:41 AM
I randomly picked this up in my health store as it was on offer & when I've researched it, it seems like the best thing ever! I've been having about 3grams a day for a week & feel like I'm already feeling the benefits, I have so much more energy, I am less anxious, I feel generally more happy in life.

So why isn't this product promoted more? I thought I knew pretty much most things worth knowing to do with paleo.

Thanks
Jenny
Get FREE instant access to our Paleo For Beginners Guide & 15 FREE Recipes!
on October 02, 2014
at 09:09 AM
i just want to know more about it, I know the cost of it. I got it for a quarter of the usual price cos our local supermarket was getting rid of its 'healthy' section to make way for Christmas *sigh*

I realise it could probably be seen as a supplement but mine is 100% raw maca so if maca is a food surely the powder is just a food. Anyway I don't really care about that aspect of it. If it's good for me and isn't gunna cause any side effects that I haven't been able to find that's all I want to know.

Like I said so far I haven't seen any negative things about it & it's making me feel great, I have so much energy & my mind feels so much clearer, Hence why I can't understand why it isn't promoted more by paleo bloggers etc??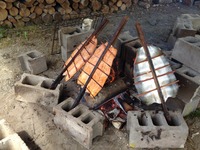 on October 01, 2014
at 12:39 PM
Because it's a supplement that is heavily advertised and marketed.
I'll leave this up on the chance that someone has used it as food. At $15/lb in bulk it's a very expensive alternative to rice or sweet potatoes, but would have similar nutritional value.
Sign in to Your PaleoHacks Account