Validity of Elimination Diets and Food Challenges
Answered on March 24, 2014
Created March 22, 2014 at 11:23 PM
Lately, I've been suspicious of the conclusions people draw about which foods negatively affect them after they do a self-administered elimination diet or food challenge. To me it seems like the majority of the time, people focus not on an improvement after eliminating the food being tested, but on how horrible they feel once it is suddenly reintroduced. To me this type of evaluation is completely invalid because this type of response would be observed for most types of food after a lengthy hiatus. For example, someone on a strict vegan diet could conclude that eating meat was bad because their gut has downregulated the production of bile or other digestive enzymes and cannot handle all that fat and protein right away.
The other type of suspicious conclusions draw from elimination diets seem to come from people's "feelings" about how they're doing that could easily be explained by psychosomatic/placebo effects. For example, "I feel like I have so much more energy now that I have eliminated gluten".
I know there are people out there that have serious symptoms caused by chronic disease, and that food challenges can be a great indicator in these cases. However, the majority of anecdotes I hear from people about how they discovered their gluten intolerance seem to fit my previous examples.
I know this has become more of an observation than a question, but I'd like to hear other people's opinions on the matter. More importantly, has there been any research done evaluating the validity of self-administered food challenges?
Views




3.2K

Last Activity




1695D AGO
Get FREE instant access to our Paleo For Beginners Guide & 15 FREE Recipes!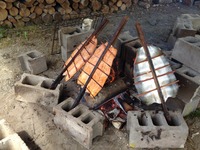 on March 24, 2014
at 10:29 AM
From time to time people post their blood tests here. These objectify the Paleo diet effect in general. Usually you see low blood sugar, low triglycerides and high LDL. You're seeing the body's response to a wholesale elimination of sugars and grains, replaced by more fats, possibly ketotic. IMO this represents the best kind of reporting because it's administered by a third party observer.
When someone reports effects in this way, it validates a lot of the other subjective observations that go along with it. Without that, the subjective observations aren't worth a lot to me. If I set out on a mission, such as determining the N=1 effect of dietary fiber on LDL, I do it well in advance of a scheduled blood test. It's my health, and I want confirmation on whether I have improved it or whether I'm fooling myself. If I were ever to do an elimination diet I'd want the same confirmation that the effect was real.
on March 23, 2014
at 12:19 AM
So, you question the validity of a) elimination diets - because they might not be scientific enough, and b) you'd like to hear other people's opinions.
Um, as I see it, b) is in conflict with a). Opinions aren't science. They're unproven beliefs, whereas a) are n=1 science experiments.
Yes, indeed a vegan without the proper digestive enzymes will show a negative reaction to meat, but over time, the lack of meat will also make them sick, unless they spend a lot of time juggling amino acid balance and supplementing B12.
However, while there is a glutaminase enzyme, such an enzyme is not lacking in someone who has been eating a lifetime of SAD, is now switching to paleo, and has just started a gluten elimination diet, so the same cannot be said there, and in that case, if eliminating gluten has a positive effect, then the elimination diet has shown a previously unrecognized sensitivity, and benefited the person doing the n=1 study. So, once they've eliminated gluten, they've shown increases in health, and when exposed again to gluten, show detriment. Indeed, their level of glutaminase may have gone down, but you cannot dispute the initial elimination made a difference, because if it hadn't they wouldn't have bothered to stick with it.
As for feelings of improved energy, the proof is in the usual factors. How they look, are able to move, perform, and feel. Yes, feel. The lack of malaise and a sense of well-being is critical here. Otherwise, if you are sick, say with a flu, I might claim, as you have, that, it's all in your head, and the sneezing and fever is merely a psychosomatic symptom of a nocebo.
So there is some tiny bit of lack in your logic young padawan, though you've posed a valiant attempt. Remember, we are all n=1 experiments.
Sign in to Your PaleoHacks Account