Recently I've been experimenting with some ratio adjustments since struggling with hunger, bringing my fat intake to 60% of my total calories, carbs at 25-30%, and protein at around 15%, and feel BETTER THAN EVER. My digestion was doing perfectly too for days. Averaging 1400 calories a day, 60% from fat, mostly from RAW nuts. My digestion had actually IMPROVED, I felt great. About three days ago though, along with my meal at Whole Foods I bought some nuts from the bins that they have, and for some reason got dry roasted ones that day (don't know why, just did), but since eating those roasted nuts, for the last THREE days my digestion has been COMPLETELY whacked. Like I haven't truly been "emptied" all three days, excuse the expression, and if I do go, it's very eh-constipation-like. Sorry for the details. I ALSO get uncontrollably depressed almost immediately when my digestion isn't working properly (weird, but I guess improper gut flora can do that). At first I thought OH NO it's the nuts, but then realized that the only problem started that day I ate ROASTED nuts. Does anyone have digestion issues with roasted nuts versus raw ones? Because literally my digestion was better than EVER until... the roasted devils.
Views




5.5K

Last Activity




1430D AGO
Get FREE instant access to our Paleo For Beginners Guide & 15 FREE Recipes!
on February 06, 2013
at 07:45 AM
I have seen it contended that, because unsaturated fats tend to go rancid easier, and that since a lot of nuts can be high in unsaturated fats, that they can oxidize, or go rancid, when roasted. What kind of nuts do you like to eat?
on March 29, 2014
at 12:34 AM
Were the nuts you were previously eating truly raw? Many nut products that claim "rawness" have been pasteurized, and they apparently don't have to state that. Nuts destroy me, too. I always find pieces of almond in my poops when I eat 'em. Or it looks like almond butter when I eat that. Or pieces of macadamia. It goes on. Regardless I think that's pretty usual among people who eat nuts. They are irritating. Maybe if only because of the industrial processing.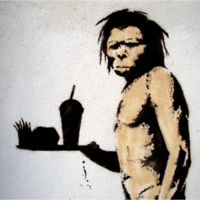 on March 28, 2014
at 10:28 PM
Those days on a nut-centered diet with good elimination could be a fluke. Nuts are pretty pro-inflammatory and gut inflammation binds me up (though some will have the opposite problem). Nuts also tend to pass through the GI tract with lots of bits and pieces intact. This isn't so bad when there's lots of other stuff mixed in the stool and you're having regular movements but as soon as you get just a little bound up all those bits and pieces clump together into hard-to-pass eh... stools.
There are tons of reasons you shouldn't build your diet around nuts but I, like you, get pretty depressed as soon as my guts bind up so that's reason enough for me. Find other fat sources, eat more than 1400 calories, and watch your omega ratios. If you really want nuts, stick mostly to macadamias. I eat about an ounce of them a day with no ill effects. If I bump it up to 2-3 ounces, even these get binding.
GLHF
Sign in to Your PaleoHacks Account