When I was doing Brazilian Jiu Jitsu, I could not eat 2 hours before class it had to be more like 3 hours. However if I drunk water in class, it didn't effect my performance like food does. DOesn't water have to go through the entire digestive track like food? How come after say a few hours you have to pee after drinking a lot of booze or tea?
Get FREE instant access to our Paleo For Beginners Guide & 15 FREE Recipes!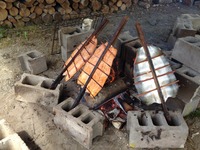 on January 19, 2012
at 06:01 PM
on January 19, 2012
at 05:55 PM
It doesn't go through the entire digestive tract. Some in the stomach, most in the the small intestine. Don't know the distribution though.
on January 19, 2012
at 07:07 PM
There's not a lot of energy required to 'digest' water. Have you had the same difficulty with taking glucose in liquid form within 2 hours of exercise? And if there's a lot of water in the system, the body will release more through the kidneys - it doesn't have to be the same water, there's quite a lot hanging around.
Sign in to Your PaleoHacks Account