Digestion times of various foods
Answered on March 17, 2014
Created March 17, 2014 at 12:43 AM
I'm wondering about other's experiences with various foods and digestion times. I noticed eggs don't last long, but if I have Sashimi * I am stuffed all day. I don't experience this with steak at the same quantity.
I am curious to other peoples experiences with food digestion times.
* When we have Sashimi, we go to town.
Get FREE instant access to our Paleo For Beginners Guide & 15 FREE Recipes!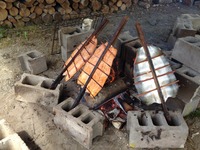 on March 17, 2014
at 10:30 AM
This is a puzzler. Fish is supposed to be fast digesting (30 minutes), and beef very slow (3-4 hours).
http://forum.lowcarber.org/showthread.php?t=401696
How much sashimi did you eat? The body can only digest protein at a certain rate, about 8-10 grams per hour, and fish is very high in protein.
on March 17, 2014
at 02:58 AM
Raw food is digested slower than cooked food. That may explain the sashimi effect you're experiencing.
Sign in to Your PaleoHacks Account