2-window graduated eating schedule works wonders for me!
Answered on April 23, 2014
Created April 22, 2014 at 8:26 PM
This is just an n=1 report and I'm curious if others have experienced anything similar... or have some feedback about what I'm doing. For instance, I hope I'm achieving some aspects of IF without stuffing my face for 8 hours and going hungry the rest of the day (my stomach isn't that big anyway). You might think I'm just eating twice a day but it's not that simple. I'm basically mixing some food-combining insights (I know paleos hate the whole food combining thing) with intuition and very brief fasting (5-10 hours). One key is to "experience hunger" a couple times per day.
I typically start the day with something heavy and protein/fat/veggie rich around 7am but keep on eating afterward, snacking on things like pork skins, macadamia nuts, or starchy tubers, then maybe some chocolate, etc... gradually reducing the digestive load until around noon when I usually eat a pile of fruit just after a short run. At this point I'm usually around 900-1200 calories.
I get home about 4:30, usually exercise a bit, then basically start again between 5-7 but shorten the pattern. I engorge on something heavy then as bed time approaches (8:30-10ish) I gradually simmer the digestive load down to something like fruit, rice, or a cheaty-paleo snack about 30-60 minutes before bed. This second eating window usually covers another 900-2000 calories depending on my mood. (this also allows me to eat only as much food as my body says I need that day without really thinking about it.)
This way I have the digestive resources to handle heavy foods and never let things like fruit sit too long putrefying in an acid bath. It also makes food much more enjoyable and seems to help me self-regulate caloric intake (as evidenced by a huge range in daily calories (maybe 1500-3200) averaging weekly to precisely meet my metabolic needs)
I think the epiphany moment was while watching the Georgia Centenarian Study documentary... It could have been elsewhere. This was after I had pretty much settled into this pattern and given myself a nod of condonement. The speaker talked about how we need to allow ourselves to "experience hunger" at least once or twice a day. The way she put it really clicked because ever since starting paleo I've been craving that growling-stomach, slightly urgent sense of hunger I used to experience so frequently. I sincerely missed hunger. It appeared that paleo foods were too satiating for me and I may be missing valuable calories.
I've dealt with some frustrating digestive issues over time and complained/questioned about it on PH far too much.
After Paleo I felt better but found that eating 3 rounded meals per day didn't work for me: I was never really hungry or ready to digest in time for my next meal (no wonder I've always been a snacker). I experimented quite a bit. IF didn't work either: I'd rarely make it through the fasting period and if I did it was either miserable or I'd have lost my interest in food for the day and become lethargic. I tried various forms of food combining, various macronutrient ratios, etc... but now I don't have to think much about all that. It just falls into place like magic!
Views




1.7K

Last Activity




2054D AGO
Get FREE instant access to our Paleo For Beginners Guide & 15 FREE Recipes!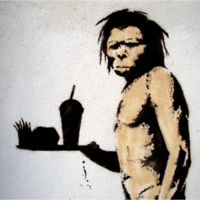 on April 23, 2014
at 05:46 PM
At school, can you get away with paleo-friendly snacks? Put some macadamia nuts and raisins in your bag. Awesome combo! Costco has a good deal on Hawaiian macas but overall I think the price is overestimated. Considering how long a pound lasts, $12-14 isn't that bad. It's over 3000 calories for $12... Also pork skins are a great snack. Fruit is good. too... Another benefit to macadamias though is time constraints. Since they're so calorie dense, you can just eat 5-10 of them with some raisins and be highly satiated!
on April 23, 2014
at 01:41 AM
I am interested in your results. Over the summer when I wasn't in school I was basically eating 2 meals a day also. I'd get up and run in the morning and when I got done and settled to eat it was usually around 11am. This was when I was running at least 6 miles a day, up to 12. So I was starving after and felt like I ate several meals in one window like you. Then I would chill out and later eat dinner with my family around 6pm. I felt amazing doing this too and wish I could do that now, but it's harder in school. Overall I think this is a great idea.
It's interesting that you eat a meal, then keep eating in that window, but stop for a while. At school now I find myself getting stuck either eating before my 8am class and being hungry again before my last class gets out at 11:50 / or just waiting to eat until in between classes or after class but being so hungry I can't focus.
Maybe I just need to eat more and for longer like what you do. I'm tired of feeling like I need a snack before practice or weights because it makes me feel sluggish and heavy. You say you consume about 900-1200 calories. I may eat 2-3 eggs, veggies, and maybe fruit or potato, cooked in coconut oil. Maybe I just need more calories earlier so I can experience hunger without nutrient deprivation?
Also - with digestion issues, how do you keep your stomach happy with so much intake at once? I think a lot of fat in one meal upsets me.
Do you think there is a difference - like feeling hungry, but nutritionally not having missed out on too many calories earlier / and feeling hungry AND nutritionally deficient?
I agree with you that it is okay and good to feel not full sometimes. I'm still getting back to feeling safe with this after being underweight.
Sorry, long response about my life too. Probably didn't need all that haha. If you answer my questions too, then thanks. We can work together here haha.
Sign in to Your PaleoHacks Account