Toxic potassium in fruits?
Answered on November 15, 2014
Created September 14, 2014 at 7:22 AM
I've come across articles mentioning due to the use of superphosphate fertilisers that fruits may not be such a good potassium source due to toxic forms of potassium. I've never heard of this before, but its a new idea and I'm a little confused by it. 
Get FREE instant access to our Paleo For Beginners Guide & 15 FREE Recipes!
on September 14, 2014
at 12:53 PM
I had to google "toxic potassium" to figure what you're talking about. Just ignore that pseudo-science BS. The logic is like "possasium is used in lethal injections, we fertilize plants with potassiums, therefore plants have toxic potassium", pure nonsense.
on November 15, 2014
at 07:44 AM
Was this a Dr L Wilson article on fruit eating?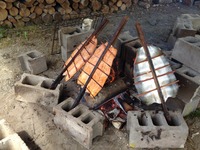 on September 15, 2014
at 02:11 PM
It's nothing to be concerned about below 100 bananas a day. That's 3x as many calories as I eat in a day, and more bananas than I eat in a year.
http://www.brainstuffshow.com/blog/can-you-die-from-eating-too-many-bananas/
Sign in to Your PaleoHacks Account