Carbs in the morning, fat in the evening? Or other way 'round?
Commented on September 15, 2013
Created September 14, 2013 at 3:44 PM
My question is about how the timing of the micronutrients would be best...
I mostly kept it like the first combination in the title, carbs a.m, fats p.m.
But i thought about it today, and noticed that it may be more beneficial to turn the whole thing around and to eat fats in the morning, and carbs in the evening, because the fats would give me the long lasting energy for the day, and the carbs would make me tired in the evening and would lead to a good nights sleep.( carbs-> insuline spike-> tired afterwards).
Im doing my strength training in the afternoon, mostly around 4/5pm, and eat a load of carbs right afterwards( to fill back in some lost glycogen, but mostly not that needed since im not that exhausted afterwards mostly) , but later in the evening for supper, i always put in a good amount of fat.
So im thinking about to eat more fat in the first half of my day, and most of my carbs in the evening, as supper. What do you think? One negative thing that im thinking about is that all those carbs in the evening probably wouldnt be burned-> gaining fat ( well my whole goal is not about losing weight, even more about gaining, but muscles, not fat!
Give me your opinion, please! ( maybe some advice on ALL micronutrients ( when to indulge), protein too!
Views




12.5K

Last Activity




1764D AGO
Get FREE instant access to our Paleo For Beginners Guide & 15 FREE Recipes!
on September 14, 2013
at 04:24 PM
The protocol you describe of eating fat throughout the day, and all your carbs in the evening is basically along the lines of John Kiefer's Carb-Backloading, Nate Miyaki's Intermittent Feast (IF), and several other nutrition and training "gurus"
There are minor differences among all of them, but the general idea is that you wait to eat carbs till the post workout period, when your body is the most insulin sensitive and thus will partition them most efficiently (filling muscle glycogen, aiding in recovery and muscular gain) as opposed to storing them in fat cells. One added benefit of your schedule is that you're also training in the afternoon, and studies have shown that you are more insulin sensitive in the later part of the day than in the morning, meaning that you have a double-whammy of a set-up there- You've created a state of increased insulin sensitivity because you've worked out, AND this is coupled with the fact that it is the evening and thus your body is in the prime time to utilize carbohydrates in the first place!
Overall, it's best to give it a try and see how it works, I've heard of many people getting great results eating this way(though I haven't tried it myself)
One thing is for sure though- carbs at night do not automatically get stored as fat because they haven't been "burned off".... if that were the case, there wouldn't be so many people who've had success eating this way. Calories are still the prime determinant of fat storage- if you eat less than you burn, but happen to include a sweet potato with your dinner, the sweet potato isn't going to be stored as fat because you haven't even hit your required daily caloric expenditure!
I hope this works for you!
on September 14, 2013
at 05:47 PM
for some reason the comment system isn't working right now, so I'm responding through another answer-
http://paleohacks.com/questions/146568/carb-backloading-and-morning-training
This thread has a bunch of info for what to do if you train early in the morning- Basically you would want to move the fruit to after your morning workout, and have some protein along with it, then hold off on your big, dense feeding of carbs till the same time you'd usually have them if you were working out in the afternoon(so with dinner)
That way you stop the catabolic process and don't break down muscle tissue, then come evening time, you fill up depleted glycogen
- In regards to the protein question, don't worry about eating protein every 2-3 hours to stop "your muscles wasting away." That is all complete bro-science. Lyle Mcdonald wrote something, I recall, about 5 hrs being actually the minimum amount of time that the protein from your last meal would even finish being utilized, and the amount of time you can go without ingesting more obviously depends on a lot of things including your activity, and the size/amount of protein in the meal you ate last. Overall, if you eat 3 larger meals, all including a good amount of protein(remember 1-1.5 g of protein/lb of bodyweight is the general consensus for the amount needed in one DAY, though some advise higher, some advise lower) so that your daily allotance is divided up fairly equally, there shouldn't be anything to worry about.
Of course if you want to eat in more meals, or less, it's up to you(some people eat only 1 or 2 times per day) but ultimately the most important thing is to make sure you are getting enough overall, and including some post workout to reverse catabolism.
Hope this helps!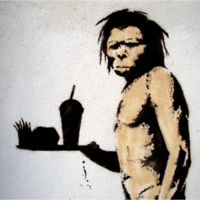 on September 14, 2013
at 03:59 PM
Sorry to start out with a correction but I think you're talking macronutrients (fat, protein, carbs, fiber) rather than microniturients (vitamins, minerals, etc...)
To answer your question: Try fat first carbs later. I'd say give it a shot. Experiment. Since everyone's body is different, nobody here can tell you what's "the best" order to eat your macronutrients in. However, for most people seeking steady, stable energy throughout the day having more fat and a dab of protein in the morning will give you that. Personally, I tend to throw in a little fruit, but rarely starches in the morning. Again, that's what works for me.
More general macronutrient advice:
-Fiber is mostly optional. It's one of those garbage health tips we've been fed for 50 years. It's a personal thing and some people do better with less, other people like more.
-Protein should never be consumed in excess. You have to be especially careful of this on a Paleo diet. I'd aim for between 15-30% of total calories depending on your calorie intake and body building needs. Focus much of it in the hours following your workout and the day after a really heavy one leaving you sore all over.
-Carbs are mostly there to feed your brain and should also be kept under 35% of total calories. You actually don't need any but most people are better off with 20-30% calories from carbs.
-Fats should be your main source of calories. After getting about 500-800 calories from the first two (depending on your athletic routine - more carbs for endurance, protein for strength) just fill in the rest with fat. How much depends if you want to gain, lose, or maintain weight. Be sure most of your fat is saturated, and some of it can be monounsaturated (like olive oil) and very little should be polyunsaturated (like soy, corn, canola, etc...) I'd suggest you do your best to never ever touch those modern oils. Get your polyunsaturated fats from things like fish, avocado, and nuts.
I'm no expert but I'm confident that I'm providing sound advice here.
Sign in to Your PaleoHacks Account