Fewer meals / day better for Diabetes: Why is this reported as ground-breaking?
Commented on May 18, 2014
Created May 18, 2014 at 1:52 AM
Why is this reported as ground-breaking: http://www.dailymail.co.uk/health/article-2629883/Two-hearty-meals-day-better-6-snacks-Eating-big-breakfast-lunch-helps-control-weight-blood-sugar-levels.html ?
Anyone who has listened to Lustig ( https://www.youtube.com/watch?v=dBnniua6-oM ) or read "why we get fat by Taubes ( http://www.amazon.com/Why-We-Get-Fat-About/dp/0307474259/ref=sr_1_1_title_1_pap?s=books&ie=UTF8&qid=1400377408&sr=1-1&keywords=taubes )
knows that if you are constantly eating carbs, all day long, we are constantly in fat-storage-mode.
So of course: contain carb eating to 6 hours/day instead of 18. Duh?
Why is mainstream just now catching on to this idea?
Views




1.3K

Last Activity




1889D AGO
Get FREE instant access to our Paleo For Beginners Guide & 15 FREE Recipes!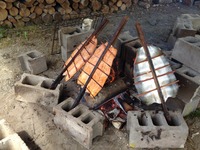 on May 18, 2014
at 10:08 AM
As a former diabetic the short answer is that ADA's strategy of 3 meals/3 snacks was designed to flatten out high blood sugar levels. It works if you're insulin resistant, and you don't overeat.
But for some reason the diet industry made it their mantra for weight loss for people that are insulin sensitive. Unfortunately it encourages continuous grazing, and easily leads to overeating, especially the snacks.
on May 18, 2014
at 04:11 AM
Dude... I've seen way worse recently, trust me. Reading the New York Times health section (if you want to drive yourself bonkers get a subscription) just in the last 2 weeks they had an "obesity expert" from a prestigious university quoted as saying that insulin has nothing to do with weight gain (wtf!!!!!!). Another article on the increase of type two diabetes among kids had another "expert" wondering out loud why this was going on, citing genetics and the environment... Nothing about sugar or diet.
on May 18, 2014
at 02:46 AM
Short answer…Your personal knowledge isn't the same as the general populace.
The same news source might next week run an article on how, fat is bad, too much protein will kill you , and why eating broccoli will save your life…
I like this question/ answer - "So basically the absolute and complete opposite of everything we've been told for the last 20 years." I think this sums up "the regular folks" perfectly…they don't know what to believe and who to believe it by.
People need more time to digest "new" ideas, while those in the know, support their continued move forward to better understanding of health/ well being.
Truth.
Sign in to Your PaleoHacks Account