Is the Paleo diet based on the Edwardian diet?
Answered on February 04, 2014
Created February 03, 2014 at 6:22 PM
Several months ago my daughter told me about the UK program Supersizers. I found it highly entertaining. In short, the two investigators (M & F) recreate a period diet and eat it for a week exactly as it was done. They do this in period costumes and surroundings. The running commentary and the doctor's visits before and after are very revealing. Sort of an N=2 experiment.
It was the Edwardian diet that most caught my interest. This is a hypercaloric diet (ca 10,000 calories a day), based primarily on meat and dairy. Fresh vegetables and fruit are virtually non-existent, though there is a fair amount of starch and some sugar. That aside, the diet's extremely high content of meat (including much seafood and offal) and fat reminds me of a high fat Paleo diet. The "healthy" eccentricities of the Edwardian diet (beef tea, slow mastication, etc.) are prescient of faddish Paleo practices like drinking bulletproof coffee and resetting leptin with Big Ass Breakfasts.
Many Paleos like to claim that the high fat diet is what we're evolved to eat. Yet from my readings, high fat diets are not typical of aboriginal survival cultures, and probably weren't the norm 40,000 years ago. High fat diets are more typical of what Darwin himself may have eaten rather than what paleos ate....
I've tried to post up a link to Supersizers Edwardian on Youtube, but have been unsuccessful. It's worth a look if you have the time.
Views




1.7K

Last Activity




1625D AGO
Get FREE instant access to our Paleo For Beginners Guide & 15 FREE Recipes!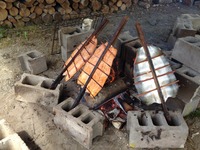 on February 04, 2014
at 05:25 PM
What I'm really searching for here is the origin of the high fat modern Paleo diet. I've thought that it started with Atkins, and that high fat Paleo came from extending the ketosis induction stage. The Paleo diet proposed by Cordain is based mainly on nordic hunter-gatherer diet, and is not so much a high fat diet as a vegetable/fruit/no-grain/lean meat diet. I've eaten Salish traditional foods for most of my life, and would tend to agree with Cordain. Fats are not shunned, but they are not abundant. The same is true of starchy or sugary carbs. The one food always available in abundance is relatively lean meats, from fish, seafood and game in season.
The Edwardian diet interested me because it predates Atkins and relies heavily on meat and animal fat. It is not by any means possible without Neolithic methods. The English were good at raising pigs and cows and gathering seafood. But they didn't have a climate to produce much in the way of vegetables and fruits year-round. It would have been more interesting to see the Supersizers eat this diet on lower calories. It's more Paleo than SAD (or whatever modern UK crap diet they normally ate - the woman is a snarky vegetarian), and it should have given them measurable health improvements by the inclusion of much higher % animal products.
on February 03, 2014
at 07:17 PM
Are you suggesting that Paleo is unhealthy because some British jackasses decided to go on a 10,000 calorie high-meat and dairy (not paleo) diet filled with sugar (not paleo) and starch (mostly from non-paleo grains I'm sure) and virtually no fruit and vegetables? Dude, that's a stretch.
By the way did you know that humans store body fat? Have you ever noticed that little detail? Well the reason is because in times of scarcity this fat keeps humans alive, paleo humans used this fat quite often in times of starvation.
The fat that your body utilizes for energy is metabolically equivalent whether it comes from your fat stores or from food. Palmitic acid is the same from a steak as it is from your gut, oleic acid is the same from an olive as it is from your thighs, there is no difference. By far the most abundantly fuel used by humans is fat, hence why we store pounds of it in the first place. When your body uses fat for fuel it uses the same exact procedure (fatty-acid beta-oxidation) to produce energy whether you're eating high-fat, fasting, starving, exercising excessively or eating at a caloric deficit.
So eating fat for energy should be no more metabolically unhealthy (or scary, for all you fat phobes) than fasting, dieting, or exercising, since ultimately the exact same process (fatty acid oxidation) is going on behind the scenes in all cases.
Sign in to Your PaleoHacks Account