Crossfit workouts and dairy cravings
Answered on August 19, 2014
Created December 03, 2012 at 7:29 PM
I've been doing crossfit workouts 3x per week for the last month, and for the past two weeks of that, I've started having intense cravings for dairy. I've struggled with dairy cravings in the past, but I was really starting to get them under control. The cravings are particularly strong after I work out, and I want cheese especially, or cream - ie the fatty goodness. Milk doesn't seem especially appealing to me. I do eat some carbs and usually around 30-40g of protein after a workout, and I'm pretty diligent to get the .7 to 1g of protein per pound of lean body weight in a day.
I supplement with calcium, magnesium, d3 and k2. I have low bone density and this is the first heavy weight bearing/strength training I've done in a pretty long time.
Any insights about the root of these cravings? Advice on something I might be needing to change nutritionally?
Views




3.6K

Last Activity




1282D AGO
Get FREE instant access to our Paleo For Beginners Guide & 15 FREE Recipes!
on December 04, 2012
at 08:38 AM
I have a sensitive front tooth. If I don't feed it dairy, the Paleo diet alone does NOT make it happy. If I either take a calcium pill, or I eat dairy, the pain goes away within 30 minutes. Which is kind of magical, if you ask me (and yes, I did take D3, Mg, K2-Mk4 to absorb calcium more, when I didn't do dairy). I'm "lucky" to have this tooth, telling me when I need to eat dairy or not.
So in my opinion, if you're not dairy intolerant, do give in. Dairy from the RIGHT animals, and when it's fermented, is actually good for you. Dairy is only bad if you're intolerant to begin with, if you're eating the wrong casein, and if it's not well-fermented.
I'd suggest this to you: if you're feeling guilty giving in on dairy in general, give in only for a very specific dairy product: kefir. Kefir is a superfood, a true gut flora champion (5x-10x more potent than Greek yogurt), and one that almost everyone should be drinking IMHO. BUT, it should not be ready-made, from the store. These are useless. You must make kefir at home to get its full potency (so you get the full gamut of bacteria/yeasts in it). And it must be fermented for 24 hours, so there's almost no lactose left in it. AND, it must be from either full fat goat or sheep milk, or buffalo, or camel milk (casein A2). But not from "normal" cow milk, since that's the dairy that has the inflammation properties that the Paleo diet is concerned with (casein A1).
So, as long as you take this limited and very guided route, you're good to give in to your dairy cravings. Of course, cream and butter/ghee are good to go from the get go. But for milk-based dairy, start with home-made, casein-A2 kefir. You can buy kefir "grains" to make kefir on Amazon.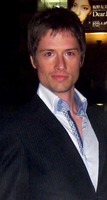 on December 04, 2012
at 10:29 AM
Could try getting 2.5g protein per kg lean body mass. Helped me a lot. Lyle Macdonald says when you're doing that much intense training and/or calorie restriction, you can burn through half of your dietary protein intake for energy. I know there are a lot of differing opinions on this one, but when I upped my animal protein intake from 2.0 to 2.5g/kg LBM, my satiety went WAY up, not proportional to the modest calorie increase. I also actually LOWERED my fat intake, and still felt more satisfied. You could be craving protein.
on December 04, 2012
at 01:07 AM
Crossfit 3x per week is pretty intense and your body is probably begging for calories and nutrients. Sometimes you crave the familiar, easy calories when your body is really needing the nutrition, for some it's dairy, others nuts, some chocolate, etc. When I get run down and exercise a lot, I usually crave chocolate and nuts.
This might be a signal to increase your food intake before and/or after workouts. I am usually STARVING after a crossfit workout and am careful to have something paleo at home ready or I will eat whatever crap I can find. I got some whey protein powder so I can make a quick shake if I am in a pinch.
I used to do crossfit workouts fasted, but was so wiped out and starving afterwards that after a few months I adjusted this and now try to eat about 2 hours before the workout and still plan on eating afterwards. I am definitely eating more calories than 6 months ago (before I started crossfit) but am 6+ inches leaner and feel a gazillion times better.
Sign in to Your PaleoHacks Account