Can I make cheese from raw creme fraiche?
Answered on August 19, 2014
Created March 31, 2012 at 5:10 PM
Hello!
I apologize in advance for this googlish question, which you'd probably think would be better asked on yahoo answers or something like that, but I feel I've more chances getting a great answer from traditional-foods crowd. All I'd get on yahoo is a ton of irrelevant comebacks like 'why would you use raw cream?' which really gets my (grassfed) goat.
So I have a lot of good, raw creme fraiche in my fridge, and I'm going away for a week. I really don't want it to go to waste. I've frozen cream before, and I don't want to again; it really degrades the taste and texture, and probably affects the nutrient value.
So I need a good idea for how to preserve it. I make cheese a lot, and I recently saw a recipe on gnowfglins for cheese balls preserved by putting them in a jar of olive oil. Wardeh says they will even keep for ages on the counter without refridgeration. Can I make cheese with creme fraiche? Will the whey drip out in the same way if I just dump it overnight in my cheesecloth? Or, should I heat it to blood temperature and put rennet in it?
Or, any other way to preserve it?
Thanks in advance!
Milla
Views




1.4K

Last Activity




1791D AGO
Get FREE instant access to our Paleo For Beginners Guide & 15 FREE Recipes!
on March 31, 2012
at 05:37 PM
Creme fraiche as I understand it will keep for weeks as it has already been cultured. Further cultures or rennet don't seem necessary - one week in the fridge should be OK (as long as it is reasonably fresh now).
Unless I've got the wrong end of the stick and creme fraiche means something different in your neck of the woods. If you basically have uncultured cream that is fresh (but not fresh enough to keep for a week in the fridge) then how about making butter?
I hate waste too, so good luck!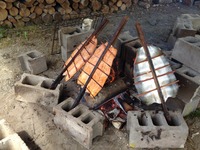 on March 31, 2012
at 05:28 PM
I'd try the cheesecloth, but frankly wouldn't expect anything more than thick yogurt. I'm currently gathering up ingredients to make an old family recipe for eggost: eggs, buttermilk and milk simmered together, then thickened in a strainer to yield a dry crumbly cheese, similar to fine dry cottage cheese curds. This will keep covered in the refrigerator for a week or so. Curdling your creme fraiche by mixing it with buttermilk and bringing it to a simmer might yield something similar.
Sign in to Your PaleoHacks Account