Am I Lactose Intolerant?
Answered on August 19, 2014
Created December 03, 2012 at 3:25 PM
A strange thing happened to me yesterday/this morning which makes me believe I may actually be lactose/dairy intolerant. A couple of weeks ago I started eating 95% paleo with the odd miso soup or safe starch (white rice/rice noodles) post workout. I've also been adding the occasional tbsp of full fat double cream (organic) to morning cofee/evening cocoa (organic & unsweetened).
Last night I had a family meal which wasn't too far from paleo (a little flour in the gravy, mash potato, chicken etc), but then finished with a reasonable portion of dairy ice cream which was also topped with some crunchy grains.
This morning at 7am, I woke up with stomach pains and felt like I wanted to be sick. I managed to drop back off to sleep and an hour later I woke up feeling better. There is no other reason why I would be sick (feeling good for the last two weeks).
Could this large portion of dairy which I haven't been consuming for the last two weeks (other than the occasional tbsp of double cream - minimal lactose) be the reason for this unexpected pain/sick feeling?
Views




1.5K

Last Activity




1740D AGO
Get FREE instant access to our Paleo For Beginners Guide & 15 FREE Recipes!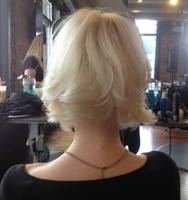 on December 03, 2012
at 03:30 PM
Ice cream is loaded with lactose naturally, and many brands add even more lactose. The heavy cream you've been adding to coffee and cocoa doesn't have any lactose. I say yes, it's possible that you're lactose intolerant. Try another milky product in a few days and see how you feel.
on December 03, 2012
at 03:51 PM
That sounds exactly like possible lactose intolerance side effect. I get that commonly - it's the indigestible lactose moving through your intestines. A course of good probiotics may help inoculate your intestines with bacteria that can digest lactose, although in general it's easier just to avoid cheese, dairy, and desserts.
on December 03, 2012
at 03:29 PM
That sounds a lot more like a reaction to the gluten than to the dairy.
Sign in to Your PaleoHacks Account