OK, my question is this: Did you really think we had evolved much out of any of our other hunter-gatherer traits, either?
Answered on September 12, 2014
Created July 24, 2011 at 3:05 PM
This is a question raised in this blog I read this AM. I posted the link below. She wants to know this answer. I found the blog intriguing on many levels and then ridiculous on some others.....but I think it is provocative enough to post here and let you answer the question she posed in her blog which sits up at the top of this stream of letters.
Here is a link to her blog. http://lowcarbcurmudgeon.com/2011/07/24/governments-sure-the-answer/
So she asked......what say the hackers?
Views




957

Last Activity




1498D AGO
Get FREE instant access to our Paleo For Beginners Guide & 15 FREE Recipes!
on July 24, 2011
at 04:21 PM
We are basically the same as we were, say 10,000-20,000 years ago, the primary difference is our Culture which is created and determined by humans. Culture was made possible by our large, well developed brains. Take away that culture or drastically modify it and we rapidly revert back to our biologically determined selves. Our biology has 1-2 million years of evolution to back it up, where our cultural beliefs and norms are continually and rapidly changing, for example just a few hundred years ago it was culturally accepted to burn a woman at the stake if she was thought to be a witch, today not so much accepted.
Take a group of people and put them in a situation where civilization and culture have little influence and they revert back to what we are evolved to do, survive. It becomes survival of the strongest, we become aggressive, even self-centered. I think humans naturally do not really want to be controlled or told what to do, but we do allow it because our 'tribe' mentality is so ingrained in us. We do not want to be alone, outside of a Tribe, because that usually means death. We allow others to control us then we resist and fight it. We still fight over territory, still want to force others to think or live the way we do because we think it's the best way.
The only thing that has really changed is our ability to mentality imagine a 'better way of Life' and then head towards it, for good or bad. Biologically we could be transported back in time 80,000 years and after the initial shock, within a few days we would fit right in.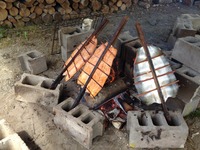 on July 24, 2011
at 08:20 PM
Yes (though I think by evolution you really mean social adaptation). Legs and arms are primarily for foraging. Human ancestors used to have curved fingerbones to forage more efficiently. The use of legs and arms for paleo hunt and gather purposes is further gone today than the paleo diet.
The rest of the ideas in her rant are harder to follow. Dream sequence Pynchonesque paranoia.
on July 24, 2011
at 06:06 PM
Well, I think the dilemma here is that, unlike many other mammals, we don't just live by instincts and genetic programming. It's the old "nature vs. nurture" conversation. So, IMO, we are physically much the same as we were 10-20,000 years ago and our digestion of food should also be similar. Mentally, we are greatly influenced by general culture, family culture and life/job experiences. Our reactions and behaviors, then, are probably quite different than a paleo person's. Only the lucky ones among us even find their way to a simpler life that supports serenity and health.
Sign in to Your PaleoHacks Account