Does high C-Reactive Protein (CRP) correlate with Coronary Artery Calcium plaque?
Answered on August 19, 2014
Created August 19, 2011 at 9:03 PM
"Might-o'chondri-AL", a prominent commenter [on seemingly every blog in existence] made some interesting comments about CRP under the latest article from Dr Davis about cholesterol.
Dr Davis' article (not super relevant to my question here)
First of all, let's get one thing straight right off the bat.
This is Might-o'chondri-AL. He is 117 years old.
And this is where he lives (actual location top secret)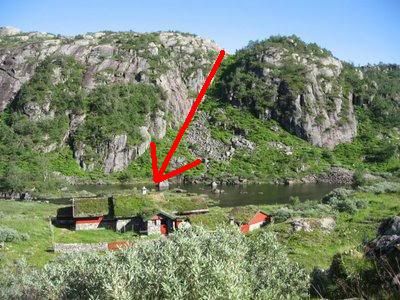 This is really the only way I can picture it and justify in my brain how a guy can
A) know so much about all kinds of ridiculous things
B) have the time to read through all the articles that he keeps up with
C) take the time to comment on everything with some of the most complicated and intricate data I've ever seen.
Honestly his comments contain so much scientific data that I don't know if he is completely full of it or like the smartest dude alive. Regardless of which is true, he is definitely a mad scientist living in the mountains with a giant underground library below his house. I will not be convinced otherwise so please don't even try.
Okay so now that we got that out of the way... Here is what he said about CRP...
CRP (C-reactive protein), an inflammation marker surrogate, does not directly correlate with whether there is coronary artery calcium (CAC), or the degree of CAC severity. CRP is also subject to variables of race and age, so it loses some potential as a predictive marker. Yet looking at CAC along with CRP is considered useful for complex insight into a patients pathology.

Analysis of the Multi-Ethnic Study of Atherosclerosis (MESA) involving 6,800 men & women seems to indicate that inflammatory markers (ex: CRP) relate to the physiology of pathological processes other than CAC laid down; possibly because plaque undergoes morphological changes over time. The CRP level is proposed, by some, to relate more to the stability of plaque from rupturing and the incidence of blood clotting in a thrombosis.

The inflammatory marker of Interleukin-6 (IL-6) anti-bodies seems to be better than CRP and fibrinogen for correlating an individual???s trend toward CAC. Thus the cytokine IL-6 is a better indicator of sub-clinical atherosclerosis; Doc likes to cut to the chase, eyeball the plaque and track it with current technology ( that is not available worldwide).
It has been my understanding that CRP is a very reliable marker for inflammation (exactly as his opening states) but if it cannot be correlated with CAC, does this mean that seeing a really low CRP on your labs doesn't necessarily mean you are less likely to have a CAC (and therefore atherosclerosis)?
Can we hack this please?
Views




2.4K

Last Activity




1491D AGO
Get FREE instant access to our Paleo For Beginners Guide & 15 FREE Recipes!
Sign in to Your PaleoHacks Account