Cf competition day diet?
Answered on August 19, 2014
Created June 12, 2012 at 11:57 PM
I've got a Cf comp on the weekend, I'm guessing there will be about 3 wods. Any ideas for what I should eat on the day or leading up to it to maximize performance would be much appreciated. Please be as specific as possible. Cheers
Views




1.1K

Last Activity




1430D AGO
Get FREE instant access to our Paleo For Beginners Guide & 15 FREE Recipes!
on September 07, 2013
at 12:44 AM
Not quite CF, but when I was competing in Strongman I made sure to eat only highly digestible foods (that wouldn't come back to haunt me) on competition day.
Breakfast was A LOT of softly scrambled eggs. 8 or so, with a bowl of oatmeal. (I wasn't paleo when I was a strongman). I purposely avoided salty meats because they tend to summon Mr. Pukey on max effort/endurance stuff.
Throughout the day I would drink water, and have a tablespoon of honey after each event for glucose/electrolytes.
I would normally be too amped up to eat a real meal during the competition. I would pack a shake (whey) or two, and try my best to sip it throughout the competition between events just to keep aminos high and keep some fuel in the tank (none of this was scientific).
If I did it all again, I would probably do the following:
6 eggs scrambled with 2oz of pemmican. Fruit (strawberries preferred). Strong cup of coffee. Lots of water.
After each event - tablespoon of honey, teaspoon of sea salt (it gets hot competing in Florida). Liter of water.
Mid-way through competition - more pemmican.
Afterwards - Screw it, I'm eating a whole pizza with a pitcher of beer, then I'm going to sleep for 10 hours.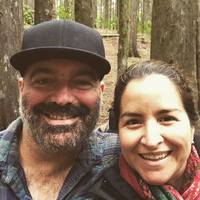 on June 13, 2012
at 12:34 AM
ON THE DAY PREVIOUS TO THE EVENT I would have: Breakfast Sweet potato hash 1-sweet potato boiled 4-eggs beaten 1-onion julienne butter salt $ pepper
Lunch Mega Salad -4 cups mixed lettuce -2 chicken breasts, grilled and diced -1 tomato, diced -1 cup broccoli flouters, steamed -1 Avocado, diced -1 cup mushrooms, sliced -1/2 cup carrots, grated For dressing: Olive oil, vinegar, honey, mustard, salt and pepper
Dinner Smoothie -1/2 cup blue berries -1/2 cup strawberries -1 banana -1 can coconut milk -Stevia to taste -ice
on June 13, 2012
at 10:44 PM
I've done a couple of CF competitions while being on a traditional lowish carb paleo diet. So here's my thoughts:
First: my normal diet is eggs, meat, fat, salad. About 3 times a week have a baked potato, especially after a glycolytic workout. So generally I run lowish carb and I'm usually semi fasted for the WOD (I eat a meat-based, no carb lunch at noon and don't eat until after my 5:30 WOD).
On my competition weekends, I look to how can I repleate my glycogen quickly enough after a WOD so that I can be ready for the next one. By that time it's too late to get any benefit from protein shakes or anything like that, you're not going to be repairing muscle over the course of a weekend. So I'll have my normal breakfast of eggs and bacon, I'll double or triple up on my grapefruit juice to get a little bonus carbs.
Then about T-minus 30 minutes to a workout, I'll have a couple of tablespoons of coconut butter, that way the MCTs are burning right at the start of the WOD.
Then immediately after the WOD I hit the ice bath for about 10 minutes and then I do a carb refeed. My carbs are generally mashed potatoes fried in coconut oil. The potatoes give me the carbs, the coconut oil gives me the fat, and it's real quick to digest. I also sometimes drink grape juice because it has a good glucose/fructose ratio to repleate both the muscle and liver glycogen. Then I sit down and relax until the next WOD and repeat. Relaxing helps digestion.
This has worked really well for me for 6-WOD weekend long competitions.
Start playing around with your feeding pre and post WOD and see how long it takes you to get energy and to reload on your carbs, that way you can set up your schedule on the weekend of competition.
Sign in to Your PaleoHacks Account