Pastured pork safety
Answered on August 19, 2014
Created April 25, 2011 at 8:47 PM
We have a source for farm raised pork along with our grass-fed beef. While I was cooking up a big ham steak the other day I wondered if, because this is anti-biotic free and theoretically the animals are better taken care of and live in cleaner conditions, can it be eaten like beef?
Or do we still need to cook the crap out of it?
Views




2.5K

Last Activity




1706D AGO
Get FREE instant access to our Paleo For Beginners Guide & 15 FREE Recipes!
on April 25, 2011
at 09:04 PM
We know where our pork comes from too, and we cook it to about 140, which leaves it a little pink and very tender. A huge improvement over the usual dry, gray chops people eat. The idea of eating it really bloody rare just isn't appealing to me, for some reason.
As I understand it, trichinosis is extremely rare these days -- even in factory-farmed pigs, since it comes from eating other infected animals, which factory pigs would rarely have access to. I'm not aware of any reason to overcook pork today. If you're willing to eat it, you might as well eat it cooked to the doneness you want.
on April 25, 2011
at 08:53 PM
As long as you trust the farmer, and the conditions are clean, you can eat it...wait for it:
MEDIUM RARE! or RAW!
http://dinersjournal.blogs.nytimes.com/2006/07/25/a-pinker-pork/
These guys advocate MR on a chop from CAFO pork...you shouldn't even bat an eyelash cooking your humanely, sustainably, organically, friendly farmer raised pork very rare.
Personally, I LOVE rare pork, nice and juicy. I've never gone "whole-hog" and eaten it raw, but I've heard of it being done, and always wanted to try it!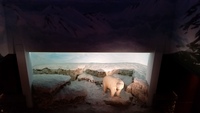 on April 25, 2011
at 08:58 PM
Don't cook the ** out of your decent pork. you will make me cry. trichinosis is most commonly now found in bear meat. cook the heck out of your bear meat, or better yet, don't eat predators. pigs come across it from having eaten infected meat.
Sign in to Your PaleoHacks Account