Cholesterol theory question
Answered on August 19, 2014
Created July 29, 2013 at 9:51 PM
If the vast majority of people in the paleoshpere believe that total cholesterol is meaningless, that LDL doesn't matter (unless it's the right kind) then why do they believe that high HDL is good and that low trigs are also good? Isn't this just cherry picking which parts of the theory you choose to believe in?
Views




1.1K

Last Activity




1432D AGO
Get FREE instant access to our Paleo For Beginners Guide & 15 FREE Recipes!
on July 29, 2013
at 10:02 PM
It is not that LDL doesn't matter, it is that a standard cholesterol test that just shows total, HDL, LDL and trig doesn't tell the whole story. When further broken down to particle size, and many other factors, then they matter. Just saying you have high LDL with out explaining in more detail is an oversimplification that is useless. It is like the calories in/calories out model. It is so simple as to render it useless. What you eat affects what your body does with what you eat. Sure, when you take in more than your body burns, you gain weight, but it doesn't just mean to take in less calories to lose weight.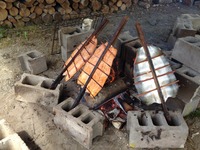 on July 30, 2013
at 02:20 AM
I go to the Framingham population study. Whether it conforms with paleo theory or not, in the real world CVD risk is reduced significantly with high HDL, but only weakly affected by rising total cholesterol until it's above 300. Paleo lifestyle (diet AND exercise) helps you hit the low risk range. Regarding low TG's, almost all paleo blood tests posted here are low. Again the benefit is seen in the population studies, with high TG's associated with metabolic syndrome and diabetes. Paleo tends to keep you out of that zone.
on July 29, 2013
at 10:50 PM
I think universally declaring any decrease in ldl as good or any increase in ldl as bad is a questionable concept. The negative effects of high ldl seems to be largely derived from increased oxidation so if you lower ldl while making the ldl more suseptable to oxidation you may be worse of. But I think the same problem can be applied hdl as well. Are you better off if you raise hdl but lower its ability to prevent ldl oxidation and or its ability to reduce the deposition of choesterol via foam cell in the intima of arteries? I'm not so sure. I believe this a big part of why drugs which improve blood lipids, like cetp inhibitors and fibrates, seem innefective even when they increase hdl. Same with some of the genetic conditions leading to higher hdl: often not very helpful (check out the paper "genetics lf increased hdl cholesterol levels" for more on this).
Sign in to Your PaleoHacks Account