Anyone Notice that the China Study Unintentionally Endorses Paleo?
Answered on September 12, 2014
Created August 30, 2013 at 12:38 AM
Campbell's China Study jumps to a lot of conclusions, but only actually proves 3 things: 1. Dairy and peanuts contain aflatoxin, a carcinogenic fungus 2. The combination of factory-meat and processed sugar is deadly 3. Leafy greens reduce cancer rates
It then jumps to the conclusion that because the meat/sugar-eating Chinese have much higher rates of cancer/heart disease than their plant-eating countrymen, animal protein must be what causes cancer. So much for isolating variables...
The thing is, vegans frequently use this book as an argument against paleo. But many of them use peanut butter as a meat substitute. So if you actually live by the hard data it offers, then paleo is more in line with it than vegan...
Views




932

Last Activity




1407D AGO
Get FREE instant access to our Paleo For Beginners Guide & 15 FREE Recipes!
on August 30, 2013
at 02:03 AM
An important rule of toxicology is "the dose makes the poison". A substance could very well be toxic, as in having the ability to harm the body in some way, but if there's very little of it present then the body can dispose of it easily and it never permeates or has the chance to do anything substantial. Every food has something that could be described as toxic after all, but it's the dose and potency (and the body's ability to detoxify) that really determines the health effects, if any.
Chris Masterjohn has the best articles on that paper. http://blog.cholesterol-and-health.com/2010/09/curious-case-of-campbells-rats-does.html
This is what he had to say based on Campbell's studies.
"If your friend offered you peanut butter sandwiches with 100 grams worth of peanut butter contaminated with the maximum amount of aflatoxin allowed by the FDA, you???d only have to eat 270,000 peanut butter sandwiches for four days to obtain the dose of aflatoxin that produced a ???barely detectable response??? in Campbell's study."
So there's no case for peanut butter being a problem for humans.
What Campbell's studies did demonstrate, however, was that getting enough protein (20% of calories) was extremely protective against high doses of carcinogens, reducing the rate of death from poisoning. The low protein rats didn't fare so well. And importantly, the rats with the least precancerous lesions were the group that were fed 20% protein during poisoning and then 5% afterwards, faring much better than 5% during and 5% afterwards or any of the other combinations. So what I think happened is that protein was powerfully protective against the carcinogens, but once you have cancer protein deficiency reduces the rate of metastasis. Makes sense since cellular replication is dependent upon having the amino acids available.
http://www.westonaprice.org/blogs/cmasterjohn/2011/09/27/taking-a-trip-down-memory-lane-fishing-for-our-good-friend-glutathione-in-the-waters-of-the-memory-hole-how-t-colin-campbell-helped-prove-that-protein-protects-us/ this is the article where he explains why protein was so protective.
So considering the fact that we don't currently have cancer, if this experiment can be extrapolated to humans, 20% protein is more desirable than 5%, and then if we ever do get cancer then protein deficiency might help slow metastasis. Might.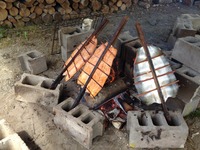 on August 30, 2013
at 03:16 AM
Ned Koch contends that the China Study supports red meat consumption:
on August 30, 2013
at 12:43 AM
Sign in to Your PaleoHacks Account