How often do you catch yourself slipping into "false cause" fallacy?
Answered on August 19, 2014
Created March 02, 2012 at 7:31 PM
How often do you catch yourself slipping into "false cause" fallacy?
Let's admit it! We all do it sometimes...
[This question is about "false cause" because I couldn't find a different phrase to explain it.]
In other words, how often do you make a diet or program change thinking that it will cause improvement, you believe it, it seems to work, and then sometimes later, you realize maybe you changed for some other reason?
I think it's common. People tend to attribute change to what they have in mind when they start, and then when it's time to review, what they had in mind either works or didn't.
Some examples: - Winger talks about vegans who claim to have improved after going vegan, but they also made many other healthy changes as well. Elimating meat was a bad idea, but the other things made up for it in the short term, so they conclude "Stopped meat. Health better. Meat bad." - Leptin reset went viral last year. I read about it and even tried it and watched it unfold. Quite a few people reported good things, but why? Did it work exactly as explained, or maybe for many other reasons and it just seems so. -I see before after pics of big-to-small people that did well after joining the gym, and along with diet changes, wow! But, I know the gym alone isn't going to change weight that much, but it's "Joined gym. Body smaller. It was the gym." -Or my favorite- "Ever since I started doing Dr BuyMyBook's Plan, I got better. Everything Dr BuyMyBook says must be true..."
Views




1.4K

Last Activity




1915D AGO
Get FREE instant access to our Paleo For Beginners Guide & 15 FREE Recipes!
on March 02, 2012
at 07:55 PM
Rarely anymore, but I used to before I knew better. Now if I'm presented with any sort of cause and effect scenario I become repulsed automatically, it's a reflex. "What?! How dare they try and infer cause and effect in uncontrolled settings!? Don't they know how many confounding factors there could be? Rawr!" :P
Good question, logic is so important especially in the world of health science, and there isn't enough skepticism.
on March 02, 2012
at 08:04 PM
I try to avoid it.
However it is very common.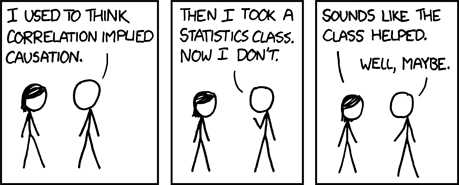 on March 02, 2012
at 08:22 PM
I think it's easy to associate a given outcome with a certain change, and because it's easy and "logical"... at least by human logic, I think that most people tend to slip into that mode of thinking... some slip into it a LOT and are very hard to sway, even with good evidence to the contrary, once they get stuck on some idea that basically amounts to 1+4=12. Of course, it often takes YEARS for a dozen or more "professionals" to figure out what those folk DID to make 1+4=12... and THEN there is the incessant argument about whose methodology gives a more accurate answer.
That's why scientists are expected to do research with double-blinding and positive/negative controls... and why it's virtually impossible to figure out the "perfect" human diet. There's no way to do long-term (like over years) nutritional analysis on whole, healthy human beings that really means anything. It's not possible to take normal people in the everyday world and be able to accurately determine which of the variables of their diet are causing particular health problems or improvements, while still addressing all the confounding variables that are inevitable unless you keep the people in cages and directly measure their input and output like lab primates.
This is why I decided a while ago to just, really, go with my gut. I abandoned all the things that TV, magazines, the radio, and the neon signs told me was "good"; stepped away from the useless advice from my doctors and the conventional medical world about what was "bad"; and started listening to my gut. I still don't always "get it right" -- Sometimes, even the best of intentions end up going all haywire -- but it strikes me that sometimes we spend so much time listening to biased data and using that to create these flawed opinions when we could just relax and trust that if it is as close as it can come to when it grew in the ground or was raised on the farm, it's probably ok to eat. The better we treat what we've grown and raised, the healthier it will be. Chances are pretty good that if our food is healthy, we will be too. Then again, there we go... there's likely a correlation... but because of all the confounding factors in the world that we live in, I don't think anyone could show causation.
Sign in to Your PaleoHacks Account