Heard this mentioned on a podcast. I'm curious as to why it isn't being widely used in the paleo community. Is there something besides the gluten in there that people don't like? Seems like a far better option than the various other pseudo-breads out there and even 'safe' starches like rice for example - which is relatively devoid of nutrition.
Also I'm curious about macro ratios in general. I know this obviously is a fairly contentious topic with no clear answer. But if you're not gaining weight can you have as many carbs as you like until you are? Where would the limit be? Somewhere in 20%-60% of calories?
Views




3.6K

Last Activity




2023D AGO
Get FREE instant access to our Paleo For Beginners Guide & 15 FREE Recipes!
on March 04, 2014
at 06:25 AM
I used to to very much enjoy good bread.
When I was first sliding towards paleo (Blood Sugar Solution, 4 Hour Body, Primal Blueprint) I really missed bread. I made sure it was part of my cheat day and even investigated store bought 'paleo bread' for regular use. After I finally 'arrived' at paleo, I realized that the paleo pseudo-breads were pretty much Frankenfoods and probably not worth consuming.
But for those wanting a bread that is less harmful.......
Article about a fellow who makes a sourdough bread with a LONG ferment... not days but weeks. Gluten senstive folks swear by his bread. I was intrigued by the product but schedule of late has not alligned with the two LA are Farmers' Markets that be attends.
http://www.westonaprice.org/food-features/our-daily-bread
With respect to what @samc posted.. yes there is a study about greatly reduced gluten due the flour used and the ferment done.
http://aem.asm.org/content/70/2/1088.full?ijkey=9ec21f12c3108ac644cb2085608b315ca768450d
I even toyed with the idea of making a low gluten bread by going the same route...an ancient wheat & customized fermentation. But as a famous movie character once said "that sounds like a lot of work". :)
I'm with @samc, I've given up bread though I do eat thinly sliced & toasted modern sour dough bagette with cheese very occasionally.
and finally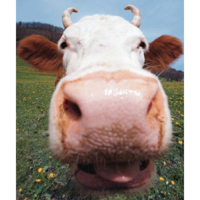 on March 03, 2014
at 11:25 PM
I read one study that showed a long ferment with sourdough culture took the Gluten down to a barely detectable level. Don't ask me to cite it because I don't remember where it was. I'd think doing sourdough with ancient grains would produce an acceptable loaf of bread if you needed to eat one. I've given up bread and don't want to go back.
on March 03, 2014
at 11:15 AM
Because fermenting doesn't get rid of the gluten, you might disable some, but not all.
When folks have actual issues with gluten (i.e. celiac), any exposure to the stuff, even in small amounts will create immunoglobulins that can cause, or continue autoimmune diseases. So while in theory it might sound nice that you can sprout, ferment grains, and get away with eating them, in practice it's still a bad idea.
If you're worried about nutrition, don't bother eating bread. Eat liver. All breads are devoid of nutrition when compared to liver, and there won't be a large glycemic response.
Don't try to justify eating a bad whole-grain "food" by claiming it has better nutrition than a fake version made with rice flour, especially when the whole food comes with a load of antinutrients and toxins.
Sign in to Your PaleoHacks Account