How much of the food we eat isn't used for energy?
Answered on August 19, 2014
Created May 23, 2013 at 2:01 PM
We're constantly talking about the problems with the calories in and calories out model around here, but I thought of something and I didn't know if I'm thinking through this correctly. When we hear about our BMR, we talk about the base amount of energy that we need just to survive, but don't we need some of our food sources in a non-energy context? We are constantly breaking down and rebuilding cells and need materials to do so.
That would mean that some of the "calories" we eat aren't used as calories, but used for rebuilding (or building for those active people) the body. Is that correct? The BMR supposedly takes that into consideration, yes or no?
If my assumptions are correct, then this could help others understand the importance of what they eat outside of a calorie centric eating plan;ie-what you eat is not just for energy, but to build the body, so if you don't pay attention, you could have an excess of "energy" to store, and a lack of "body maintenance" materials.
Perhaps someone else has more detail and/or a more concise way of putting this.
Views




2.1K

Last Activity




1427D AGO
Get FREE instant access to our Paleo For Beginners Guide & 15 FREE Recipes!
on May 23, 2013
at 02:22 PM
Of course, not all food is used as energy. A calorie is simply a unit of measure. It can be converted to mass units based on the type of nutrient it describes. We know this all too well: protein is 4 calories per gram, carbohydrate is 4 calories per gram, fat is 9 calories per gram.
So, for example, if our bodies need 50 grams of protein, 10 grams of fat, and 10 grams of carbohydrate (yes, we do have carbohydrate as structural components in our cells/bodies) per day, that amounts to 330 calories worth of nutrients used as structural components. Who cares if we measure them in calories or grams? (This is the problem with J. Stanton's recent rant, he's hung up on what units we measure things in.) So out of a 2000 calorie diet, you'll have just 1670 calories available as energy. Don't forget our gut microbes, they also take their share as well, but they also produce energy for us, so that makes things harder to figure.
It's would be rather difficult to eat a reasonable diet that does not meet nutrient needs for bodily upkeep. 50 grams of protein more or less ensures nitrogen balance. 50 grams of carbohydrate prevents ketosis and protein breakdown for gluconeogenesis. Never seen numbers for fat, but assume it's a similar number. If you ate 100% fat/carbs, you'd lose lean mass from inability to repair and regenerate, but could very well put on fat mass at the same time.
on May 23, 2013
at 02:05 PM
I urge you to check out J. Stanton's work on gnolls.org. I will link at the bottom, but his most recent post did a fantastic job of covering this. Basically, if we give our body the nutrients it needs to grow and repair tissues, we aren't really getting usable calories for energy out of it. If you eat a lot of what you don't need (processed carbs), then your body has no use for it and will just store it as fat. J covers it far better than I will. Also, BUY HIS BOOK The Gnoll Credo, it is awesome.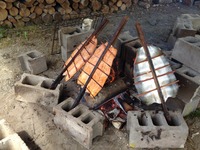 on May 23, 2013
at 10:26 PM
My answer, for weight loss, is that whether, or how efficiently, we use food for energy isn't very important. I say this based on the experience of having lost 50 lbs in 6 months using cico. There is theory, and then there is the empiric reality of calorie tables, the scale and the tape measure. If I had what I thought was a calorie deficit which should result in weight loss at a certain rate, and I didn't match that rate, I made adjustments. Generally the mismatch was due to undercounting the amount of food I had eaten, so I could get back on track by eating less. Past a certain weight I couldn't eat less without feeling starved, so I had to rely on the other part of cico: increase my metabolic rate by exercising. The burn rate tables became more useful than the food energy tables.
To make cico work I didn't need to know my BMR exactly. It's only a referencing point to calculate deficits, and it changes in direct proportion to scale weight. The calculated Harris Benedict number worked fine for me. When I was losing weight I cross checked it using my counts and found that it was fairly accurate.
Sign in to Your PaleoHacks Account