How important to the brain is "Paleo thinking" and "Paleo making"? Is manufacture a human given?
Answered on August 19, 2014
Created July 28, 2012 at 10:11 AM
Well I was watching a stone age based episode of bushcraft with ray mears (after also having watched I, caveman :P). I was getting really into the stone age spirit, which was fun.
But I started wondering about some things. Eye hand co-ordination would have been very important.
And people would have been constantly constructing tools, weapons and traps (and art, clothes and musical intruments too). Alot of those basic stone tools are tricky work, further, the design of weapons and more complex tools is alot of work. Very time consuming.
The design aspects of these things are actually somewhat complex problem solving and engineering jobs. Traps are a similar issue, one has to design the trap based on whats available. Its alot harder than youd think. How do you create a straight arrow? How do you glue the spearhead/arrowhead? How should each thing be shaped, made of what etc...
It makes old games like kings quest look like something for a simpleton.
Aside from being physical fine hand eye manufacture work, its quite a mental puzzle.
Additionally, certain people would have been plant and animal experts. They would have mentally catalogued massive amounts of information to pass on about each medicinal, edible, or tool material plant.
The same with animals - to hunt and trap them, one would need to mentally catalogue massive amounts of behavioural and other information. Which parts of the animal can be used for what. Then again with the problem solving, for plants, how to make that tool, how to heal that ill. For animals, how to hunt that beast, how to trap that small animal.
Its not just skills, it seems really quite mental.
And then nowdays we have the concept of "mental exercise", that if you dont use your brain you lose it. Perhaps maintaining mental libraries of information, and using logic to attack problem solving situations, or designing to make tools is the basis of this maintenance exercise?
What say you paleohackers, is problem solving and mental cataloguing the basis of mental exercise? Do we need alot of it to maintain cognition?
And on a related note....is manufacture one of things part of what makes life meaningful for humans?
(It seems very satifying to make something. Very few of our modern jobs involve us personally overseeing the creation of some end product. Theres something very lacking about not having a specific output..)
Views




887

Last Activity




1886D AGO
Get FREE instant access to our Paleo For Beginners Guide & 15 FREE Recipes!
on September 07, 2013
at 12:44 AM
There is a reward system in place that appears to have evolved for cognitive labour.
Firstly, there is a reverie-like state that one is in whilst being intensely focused on such an activity and secondly is the affirmation of success with the achievement of the set goal.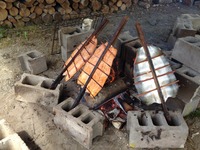 on July 28, 2012
at 03:03 PM
The inability to use eye/hand coordination other than for burger flipping and catching baseballs bothers me, as does the reduction of western economies to activities such as innovation and service giving. "China makes, the world takes" is a fine lead statement by James Fallows, but if at the end of all this everyone else in the world is reduced to the position of being a servile consumer we've gone off the trail that evolution/adaptation have brought us to today.
Case in point.I just started riding an old Schwinn cruiser bike, rebuilt from a 1940 frame. This standard bike of newsboys became the mountain bike of the 1980's because of its toughness. Innovation by Arnold Schwinn led to production, led to ubiquity, led to obsolescence, led to garage sales, led to Gary Fischer and Joe Breeze riding the things down mountain trails.....which led to a rebirth of the object and new manufacturing....which led to ubiquity, which led to all the manufacturing being offshored and robotized to minimize cost. The two "cycles" of macgyver-like innovation and manufacturing that resulted are what being human is all about. The ubiquity/cheapness/robotizing/offshoring are what's wrong. I don't know how to stop it. But wherever I can I try to make my own, grow my own and buy locally made. The old Schwinn for instance has been bashed together out of parts and repainted - all manual labor and showing it - yet the product is cheaper than an imported cruiser or mountain bike, much more durable, and much more attractive at least in my eyes.
Sign in to Your PaleoHacks Account