Eat bones for healthy bones?
Answered on April 17, 2014
Created April 16, 2014 at 11:44 PM
Not to be outdone by my "Eat skin for healthy skin?" question, Is it true that eating bones (Sardine bones for example) will improve your own bones?
Views




1.3K

Last Activity




1550D AGO
Get FREE instant access to our Paleo For Beginners Guide & 15 FREE Recipes!
on April 17, 2014
at 11:08 PM
It is less clear cut than the skin case. There there is a nutrient that is sometimes in short supply. The skin post should have concluded "Eat tripe, cartilage, tendons, bacon, oxtail, neck meat, headcheese, short ribs or skin for a healthy skin".
In the case of bones, P is not in short supply in our diet, generally speaking. Collagen can be had from the sources above. Ca is a long story. The RDA is way too high, if it is intended as a level to prevent deficiency. Ostheoporosis is unknown in populations that eat no more than 400 mg/day. Excess Ca is linked to some health problems, but my gut feeling is that eating bones is paleo and promotes health. There may be other advantages in eating those nutrients in premixed ideal ratios. I linked nutrients in fly larvae a couple of days back, now those are the bomb regarding Ca and P, even if they have no bones themselves.
on April 17, 2014
at 12:04 PM
Have you been reading eastern medicine texts or about them by chance...? :)
'eat what ails you...'
Maybe... I don't eat a lot of bones now when I'm having a lot of dairy, but when I wasn't, (and eating generally lower carb, higher fat), bones and canned fish did seem like a good idea, I don't deny... But often thinking about something in a certain way can lead that to be the case, and who knows if it is... II think there is not a lot of scientific evidence that people are attracted to food by its micronutrient/their micronutrient defences, although there are n=1s about it...
Doesn't bear thinking about much though imho (for me that is)... the 'what works' theory for any individual, derived from their self, circumstances, history and exposure to/reading of literature is most important... and asking questions...
(full circle!)
Anyway, my answer about the 'truth' is': 'it depends'. Given bones have large amounts of highly absorbable calcium (unless these are excrete in broth), I would say that in context of other nutrients (e.g. vita, a, k2 probably) and metabolic systems being sufficiently well looked after and functioning, bones (broth at least) could be eaten to help build or maintain healthy bones... But bone mass peaks I think at around early twenties for men and a bit earlier for women; taking care early could lay foundation if you take the long view... Or just enable you to do/continue to do,/make stuff happen right now. Be present... Body is vessel for dreams to be made and fulfilled, to self-actualise (Maslow).
Eat what ails you... It has something to it I think...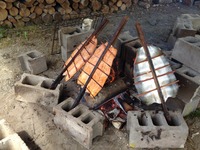 on April 17, 2014
at 12:07 AM
Sign in to Your PaleoHacks Account