constipation help
Commented on December 11, 2013
Created December 08, 2013 at 4:47 AM
Sorry another BM issue--
i have constipation. I can't go naturally unless I take Magnesium Citrate (1000mg to induce movement), which means I can decide when and how frequent I want to move my bowels.
If I don't do anything proactive about constipation, I will probably not have any urge to go for 1-2 weeks (red-flag, I know). When I let myself to be constipated, I don't have any pain or discomfort up to like 7 days... I don't feel hunger either during that time. On day 7, I will start feeling "full" and then I take magnesium to help me poop. I don't like the few days after I have a BM, because I get really hungry... So actually being constipated doesn't really have any negative effects on my daily function; I would even go as far as saying it makes me more productive (not getting bothered with eating/hunger).
My current food consumption over 6 days:
12 cups of plain Greek yogurt
6 potatoes
salsa
4-5 can of sardines
4-5 eggs
1 bag of greens (collard, kale -- cooked)
Occasionally I eat banana chips (fried in coconut oil), and a few nuts.
Water - 5-6 cups a day.
Views




1.6K

Last Activity




1678D AGO
Get FREE instant access to our Paleo For Beginners Guide & 15 FREE Recipes!
on December 11, 2013
at 07:09 PM
I've noticed immediate results with iodine...I forgot it could be like this. :-) And it has to be balanced with selenium (couple of Brazil nuts a day should take care of the selenium).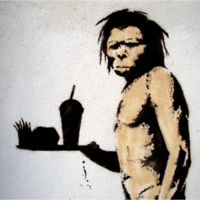 on December 09, 2013
at 10:25 PM
Constipation is not a good dieting technique.
Just take the magnesium every night. I fluctuate between 400 and 1000 mg depending on my diet and stool consistency at the time. There's nothing healthy about avoiding a supplement for a mineral most everyone is deficient in. You need the magnesium, and probably a few other things, to be right. I'd also throw in some iodine and make sure you get plenty of natural selenium from things like eggs, fish, and the occasional brazilnut.
on December 08, 2013
at 07:51 PM
poop is what your body wants to get rid of- it's waste. when it sits so long in your digestive tract, it gets reabsorbed into your body when you really want it out of there. i would probably take magnesium every day to get you going more regularly. i am shocked that a week's worth of poop doesn't make you feel really uncomfortable. are you barely eating? even when i don't go for one day, my gut gets huge and bloated.
Sign in to Your PaleoHacks Account