Bacon: pastured vs conventional...
Answered on December 22, 2013
Created December 17, 2013 at 3:57 PM
What's the nutritional difference? How does the fatty acid profile differ? I'm sure someone can pull up a decent study - the USDA food database doesn't distinguish, of course.
Views




2.3K

Last Activity




2129D AGO
Get FREE instant access to our Paleo For Beginners Guide & 15 FREE Recipes!
on December 22, 2013
at 02:52 AM
I can't help you with the studies but I am assuming that you're interested just to see if pastured products are 'worth it' for you, and you want to see if you can back it up with peer reviewed science. I don't know about any 'studies', but pastured/foraged makes a world's difference for me. I deal with PCOS and really crappy gut issues thanks to a childhood raised on crap. Grain-fed meats, even the organic free-range ones, give me terrible breakouts and make me tired. However, grass-fed beef and pork give me no issue, and it's really interesting.
Conventional studies are often funded by private interests, and for the scientifically illiterate (like many of us), the studies and their sciencey jargons probably don't make sense and thus won't help much. Personally I listen to my body because there's so many contradicting "studies" out there that turn out to be wrong (like the study where saturated fat is bad for us). My body says that pastured bacon is definitely worth it, so I just go with that.
on December 18, 2013
at 06:40 AM
From what I remember, conventional bacon is loaded with PUFAS, not to mention the pigs are up their knees in excrement and are crammed into tiny stalls and never get to see the light of day, pastured bacon is loaded with monounsaturated fat, omega-3 fatty acids, conjugated linoleic acid, and vitamin D (from having the pigs spend time in the sun), which conventional bacon sorely lacks.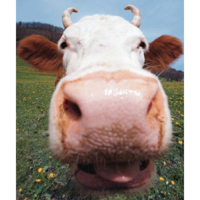 on December 17, 2013
at 05:36 PM
Didn't look long for it in the past but never found any info. Same goes for grass fed beef, details are sketchy. No small producers can afford to send off the meats for lab testing to get you that info and one farms pastured maybe a lot different than the next. Factory pigs are probably the same breed and generally produce the same nutrient profile.
Sign in to Your PaleoHacks Account