do we need animal fats?
Commented on February 23, 2014
Created February 22, 2014 at 4:12 AM
Case a) person eats liver weekly, sardines biweekly, and gets all fats from olive oils and avocado. What would animal fats contribute to such a diet?
Case b) same as case a), but remove the weekly liver, keep the sardines and vegetable fats . Person spends time outdoors (say, a Californian), eats natto, eats lots of squash soup, or perhaps cooks with red palm oil. Again, what are animal fats for?
Views




1K

Last Activity




1604D AGO
Get FREE instant access to our Paleo For Beginners Guide & 15 FREE Recipes!
on February 22, 2014
at 09:14 PM
It is not a straw man. I have a possibility to buy property in agricultural zone 9b, with such plants (olive and avocado) being there. If it eventually becomes my retirement home, they would figure prominently in my diet. The next question is: if most of your meat comes from rabbit, which is ultra-lean but superior to any other domesticated meat in micronutrients, and rabbit liver is the best tasting liver there is, and the fats are those fats, how does this compare to straight whole beef eating? Surely I will not raise goats or anything larger, just rabbits and chickens, at most wild boar if I shoot one.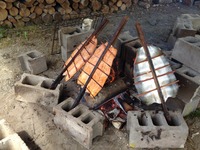 on February 22, 2014
at 11:31 AM
The two straw-man cases are highly specific and don't have anything to do with the main question of whether we need to eat animal fats. The answer to that question is yes. Animal fats are ancestral foods which Paleos ate in a mixed diet. They were eaten because they are high energy content digestible foods, and cannot be easily separated from the rest of the meat.
Why a person would favor red palm oil over meat of any kind is beyond me. Separating the fat from the protein, whether animal or plant (think soybeans) creates a modern processed food which by itself is suboptimal.
on February 22, 2014
at 04:54 AM
My understanding, is that various fats can be converted, but I have no idea about effeciency, or the metabolic process itself for the conversion. I would guess that it might be relevant there is a little more to nutrition than macronutrients. Various animal products, do have certain unique nutrients, even if they are not vital per se to eat. And can comment of a few aspects of your theoretical people.
Biweekly sardines seems _way_ too low in terms of both whole protein, and omega-3 fats. In terms of liver, you can get the minerals from plants, and the vitamins from various places, but additionally liver is just a very convient source of choline. Your person b, would have too low choline.
So where are they getting their protein intake? Are they muscle wasting? What is their primary energy source...is it plant carbs? Are they insulin resistant or extremely, super active? Anti-nutrients?
I think the okiniwans would be similar to what you describe, but with much more fish, and a little occasional muscle meat (they are however super active, and during time of study ate low calorie), but I think my overall point would be that aside from whatever metabolic processes handle fat conversion, fat is not the only issue involved in the diets your propose. In fact theres a lot more going on that animal fats.
I would like all the same to hear from someone who understand whatever cycle/s governs lipids conversion and metabolism.
Sign in to Your PaleoHacks Account