Is Degradation of collagen the main facilitator for disease?
Commented on March 22, 2014
Created March 21, 2014 at 4:04 PM
It seems to be well established that degradation of collagen can facilitate disease and I don't think anyone here will dispute that (degradation of the collagen in your gums would result in periodontal disease for example), but could degradation of collagen be the main facilitator for infectious diseases, heart disease and cancer?
Below are some "citations". I use the term citations loosely because I do not link to any clinical or epidemiological studies directly. I'm looking for someone more well versed than myself in biology to answer on the plausibility of this theory. Also please see some quotations that stood out to me below.
"At present, there is a wealth of data regarding collagenases in many pathogenic species of bacteria, fungus, protozoa and worms, involved in the pathogen spread in different host tissues."
-https://www.novapublishers.com/catalog/product_info.php?products_id=41640&osCsid=5e9a553a1b1129fed10cc0ad3598a587
"Viruses, bacteria and other microorganisms use this collagen-dissolving mechanism to initiate and spread an infection.You get the common cold because collagen has been dissolved.Cancer metastasis likewise occurs because of this same process.Disease-causing agents like bacteria and viruses cannot invade the body unless the connective tissue is first dissolved by these enzymes.Herein lies the answer to infectious disease, cancer and other health problems."
"Inflammation stimulates secretion of white blood cells to act as anti-inflammatories.In chronic inflammation the body tends to overreact and over-secrete white blood cells.These cells produce lots of collagen-digesting enzymes to get the white blood cells through the connective tissue to the site of the inflammation.They also produce harmful free radical chemicals in the process.If the inflammation goes on too long, the collagen-dissolving enzymes destroy the connective tissue creating a long-term (chronic) inflammatory disease."
-http://www.pacifichealthcenter.com/blog/?page_id=104
"The collagen-dissolving mechanism plays an especially important role in infectious diseases. Without the disruption of the surrounding connective tissue, the agents that cause diseases (viruses, bacteria) cannot invade the body and spread the disease."
-http://www4.dr-rath-foundation.org/pdf-files/cancer_book.pdf
So the first part of the question is to whether collagen degradation is actually a principle facilitator of disease. If no, then why? If yes then does that mean that building up collagen could actually prevent these diseases?
Views




6K

Last Activity




946D AGO
Get FREE instant access to our Paleo For Beginners Guide & 15 FREE Recipes!
on March 22, 2014
at 06:23 AM
Worried about collagen degradation? Bone broth is your panacea.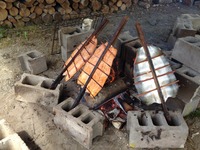 on March 22, 2014
at 10:45 AM
I see collagen degradation as symptomatic rather than causative. Effects of the loss of ability to synthesize replacement collagen - like osteoporosis or hair loss - result from age, nutrients, genetics, lupus, scurvy, etc. It would be impossible to single out collagen degradation as the facilitator of all other diseases, given that it is only a result of specific causes.
on March 21, 2014
at 05:51 PM
Collagen degradation is not the principal cause of all diseases, it is much more complex than that. Diseases have many different causes, and collagen degradation is typically an issue for the elderly or for people with scurvy, or other more specific circumstances. If you suspect you have degradation of collagen, just eat sufficient protein (fish, meat, eggs, etc) and consume vitamin C (lemons, peppers, watercress, etc).
Sign in to Your PaleoHacks Account